July 5, 2022
Since 1985 July has been recognized nationally as Parks and Recreation Month. July also happens to be the busiest time for Burlington Parks and Recreation; launching and coordinating their extensive programs, events and activities. However this year Parks and Rec Director Brendan Egan and Programming Director Kelly Lehman were before the Select Board for a proclamation recognizing National Parks and Recreation Month.
Egan informed the board the celebration theme is "We Rise Up for Parks and Recreation" and the Recreation Commission has already voted to proclaim July Parks and Recreation month. 
"It's a chance to support the professionals who build strong, vibrant, resilient communities through the power of Parks and Recreation," stated Egan.
The Parks and Rec staff have put together a special calendar of simple activities and events people can participate in that will be promoted throughout the month of July. 
"I think through the pandemic people reestablished the importance of parks in their daily lives and also realized how important recreation was to their families and wellbeing. And also appreciate the great programs that the residents of Burlington are lucky enough to have before them," said Egan.   
During discussion board member Jim Tigges, mentioned as a child he attended Burlington Parks and Rec programs and worked for Parks and Rec in the late 70s. 
"The Rec Department has changed radically. It's incredible the amount of programs you offer for every age," Tigges continued. "It's amazing how the Recreation Department has grown exponentially. I tell people we have the best Recreation Department in the state, if not the country".
Egan also gave accolades to the Parks and Rec staff and the maintenance crews.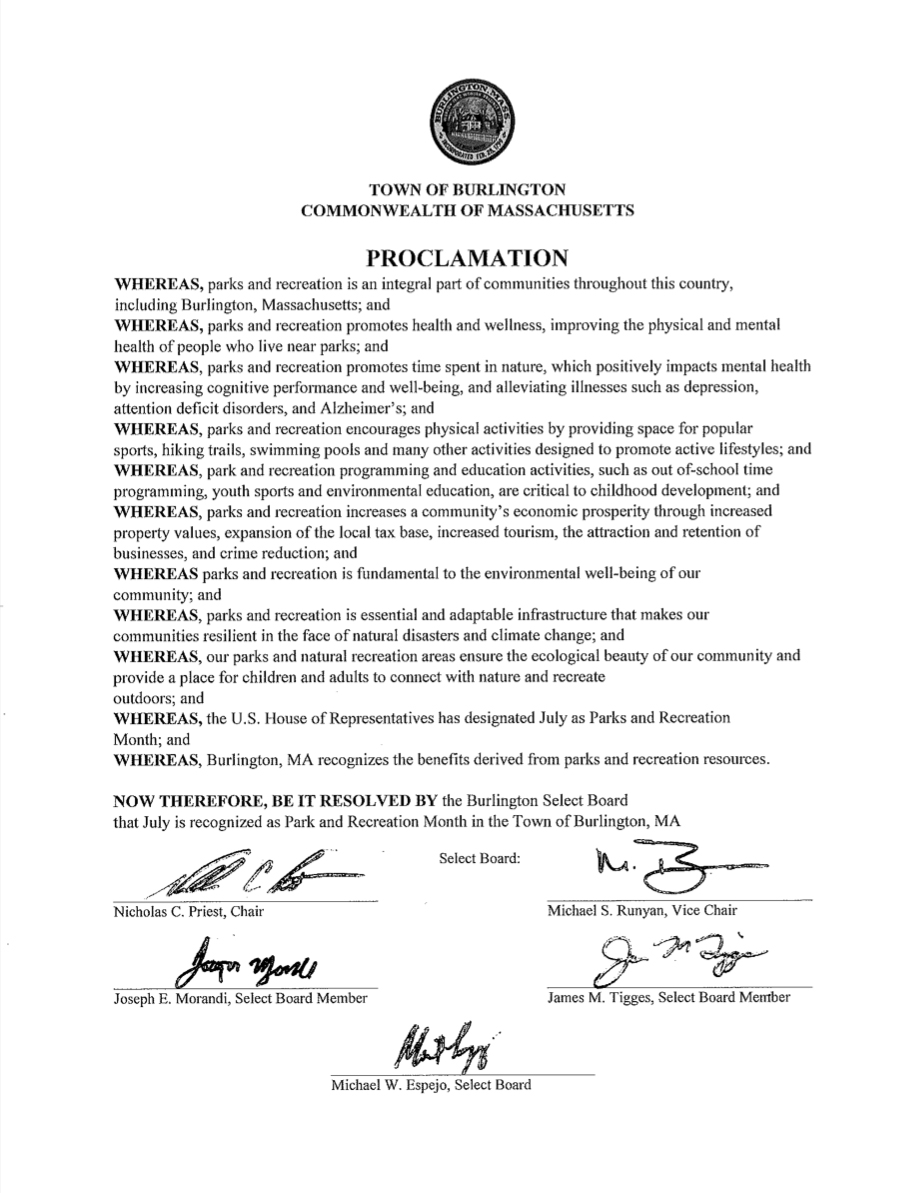 Tad Stephanak
Thaddeus (Tad) Stephanak is BCAT's Social Media Director and Production Coordinator. Tad is a regular contributor to BNEWS and produces our BNEWS Specials, Burlington Life and several of our special features including Chamber Spotlight, Eye on Nature and Local Economic Development. A graduate of Emerson College Tad spent many years in Los Angeles employed in the entertainment industry before returning back east and has been with BCAT since 2007.